Frequently Asked Questions
Last Updated 02/06/2017 – MG
This F.A.Q. is structured to try to answer your questions as they arise as you read through it, so feel free to start from the top and read down to the bottom!  If you'd rather view this information in Google Drive, follow this link.
What's a SUOC?
The Syracuse University Outing Club is a completely student-run organization that provides gear, expertise, and leaders to SU and SUNY ESF students to do outdoor activities that they couldn't do otherwise.  
Where and when are the meetings?  
Every Tuesday in the Heroy Geological Building Auditorium (SU building with a massive rotating light-up globe in the lobby) at 7:30 PM.  
How are the meetings structured?
They start with a short video showcasing an adventure sport (not always activities that SUOC partakes in) such as rock climbing, downhill skiing, highlining, or unicycle caving.  Then, we tell trip stories: the people that went on trips since last meeting tell us about it.  Afterwards, the trips are voted on by applause — you clap and yell wildly for the trip story you liked the most and clap politely for all the rest.  The trip story that receives the most applause will take home the trophy, which is a literal trophy with a lot of stuff stuck to it (including real raw eggs, a Hillary Clinton figurine, and a stuffed bird that we found in the woods).  The trip leader adds something else to it (hopefully something related to the trip) and brings it back to the next meeting.  After the trip stories, we do announcements.  Announcements are all of the things that aren't official SUOC trips, including volunteer work, events with other clubs, social gatherings, and who to talk to about gear and training.  Once announcements are finished, we do trip announcements, where leaders tell us what trips they're taking out the coming week.  Our president fills out a spreadsheet for the trips while our secretary writes the information at the top of sign up sheets.  After all the trips are announced, Graham puts the sheets up at the front of the room and everyone scrambles like animals to sign up for the trips they want to go on (bring your own pen, have your SU ID number ready!).  If you'd rather not throw elbows, just wait until it dies down and sign up for the trips.  At this point, the meeting is over.
I can't make it to the 7:30 PM Tuesday meetings.  Can I still go on trips?
Absolutely!  While the first 'round' of trip sign-ups happens at the end of those meetings, our trips and announcements are also  emailed to people on our listserve every week.  You can contact the leaders taking out trips you're interested in once that email has gone out.
How do I get on the listserve?  
There are directions on our website, just go to "Get Involved" >> "SU Outing Club Listserve" for more details.  Here's a link directly to those directions: get on dat listserve boi.
I can't figure out how to get on the listserve.  Am I SOL?  
Not entirely.  Our trips and announcements are also posted on the frontpage of our website and on our Facebook Group with all the information you need to contact the leaders.
You keep mentioning leaders.  Who are they?
Leaders are the students in our club that have been approved to take out trips.  They are all certified with CPR and First Aid training and have proven their knowledge and skill for the activity in which they are a leader in.
Leaders are students? Can I be a leader?
Yes, leaders are students; SUOC is completely student-run and relies on its members to fulfill officer positions and continue leading trips, otherwise our club will cease to exist.  Yes, you can be a leader — so long as you pass two ghost leads.
What's a ghost lead?
A ghost lead is when someone that wants to be a leader takes out a trip under the supervision of a current leader.  Then, the current leader passes or fails them on their ghost lead based on their performance.  Usually, people go on a few regular trips in a given activity before trying to get ghost leads in it.  Current leaders will not volunteer to give a ghost lead to someone they think is so ill-prepared as to put themselves or others in danger.  You can talk to our Leadership Chair after the meetings for more information.
Can I redeem myself if I fail a ghost lead?  
Yes, you can redeem yourself by taking out another ghost lead in that activity and passing it.  
What activities does SUOC do?
What don't we do (the answer is downhill skiing; more info below).  We do kayaking, canoeing, backpacking, winter backpacking, mountaineering, horizontal caving, vertical caving, bouldering, rock climbing, ice climbing, white water kayaking, canyoneering, mountain biking, snow biking, cross country skiing, and backcountry skiing.  If you don't know what any of those mean, that's fine!  Neither did most members when they first joined.
Wow, that's a lot of outdoor fun.  Sign me up for whitewater kayaking and vertical caving!
Glad you're into it.  Most of our activities are beginner friendly and don't require training beforehand, but whitewater kayaking and vertical caving are two that do.  If you're interested in these activities, stay tuned for training opportunities (they are definitely worth it).
Do the other activities require training?
Most other activities can be beginner-friendly and don't require additional training.  The trips are announced with their experience level: Beginner, Intermediate, or Advanced.  
How do I know what level of activity I'm ready for?
If you've never done an activity, you can sign up for the Beginner level trips and your leader will explain everything you need to know about gear, etc.  If you have some experience in an activity, you can probably sign up for Intermediate level trips.  If you have extensive experience leading trips in the activity (i.e. you can outfit yourself with the gear you need, know what to expect, and have done it before), then you can probably sign up for Advanced trips.  If you're ever confused about what trips you can sign up for, ask the trip leader if they think you're ready.
Do you do downhill skiing?
Not really, but SUOC is a great place to meet other downhill skiers.  As a club, we do go backcountry skiing, which is downhill skiing in the wilderness, basically.  
Do I need my own gear?
Nope!  SUOC has just about all the gear you need for any activity we do (except clothing and hiking boots).  The gear is in our Equipment Room (referred to as the Eroom, labeled as Skybarn on Google Maps) on South Campus.
How do I get to the Eroom?  
You can take a bus from University Ave to Skytop/South Campus and get off at the first stop on South Campus (usually the third stop on the route), walk through some yards, and enter the Eroom at the back of the Skybarn.  Below are some pictures to help you find the Eroom.  Sometimes people drive from Centennial or from off campus — feel free to post in our Facebook Group to ask for a lift or contact your leader for help getting to the Eroom.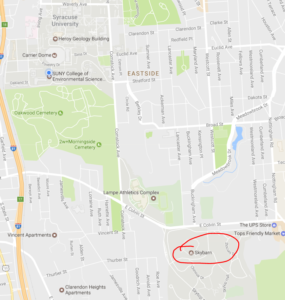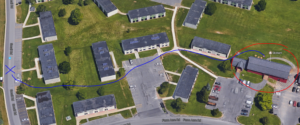 When can I go to the Eroom?
Unless otherwise specified, the Eroom is only open 7:00-9:00 PM on Wednesdays and Thursdays.  
When should I go to the Eroom?
If you signed up for a trip with specified Eroom Hours (the E-room column on our trip announcements), go on that day because that's when your trip leader will be there to get you the right gear.  If you just want to come to see our gear or meet some more SUOCers, come to either (or both!) days.
I can't make it to the Eroom at those times/days, what do I do?
Talk to the leader of your trip well in advance.  They might be able to figure something out for you if you give them enough time to do so.
I never went to the Eroom and I'm going on a trip this weekend that requires gear.  What should I do?
Well, you should have contacted your leader a long time ago.  It's now up to them to decide if they'd like to inconvenience themselves and potentially everyone else on the trip to outfit you with the things you need.  If they don't want to do that, you are off the trip.  You can sign up for something else next week.
Wait, leaders can just boot me off the trip?
Yes, they can.  If you fail to uphold your part of the bargain (e.g. showing up to Eroom hours) or if you are not ready for the trip you signed up for (e.g. signed up for a vertical caving trip without going to the training), your leader has every right to take you off the trip.  They are responsible for you, everyone else on the trip, and the gear they take out from the Eroom.  If you jeopardize any of those, the leader can and should remove you from the trip.
What should I do if I can no longer make it to a trip that I signed up for?
Tell your trip leader immediately.  Not everyone makes it on every trip, and your leader might be able to get someone that was waitlisted to replace you.  They can't do that if you tell them the morning of, though.
I signed up for a trip, but you said that not everyone makes it on every trip…?
Right.  Some trips can't take all the people that want to come, so the leader takes the first people that sign up.
How do I know how many people can come on the trip?
That is listed under the "Limit" column on our trip announcements, but you don't really have to worry about that.  For example, if a trip you want to go on has a limit of 4 and 4 people have already signed up, still put your name down.  People back out of trips all the time (even though it can be inconsiderate to the leaders), and there's no harm in putting your name down.
How do I know if I made it on a trip or not?
Your leader will use the contact information you provide on the sign up sheet (so writing legibly is important!) to let you know that you made it on the trip and may also provide some more information on how to prepare for it (e.g. what kind of clothes to wear, how much food to bring, etc.).  Most leaders do not send out emails/texts to the people that did not make it on the trip.  
I'm not sure if I made it on the trip because it seems like no one has received an email/text about it.  What should I do?
Contact the leader.  This is also a decent way to show them that you really want to go, and they may be more likely to contact you if someone else drops out (but this is not in any way a guarantee).
Do SUOC trips cost money?  
Before you pay your membership fee, you're allowed to go on one free trip to see if SUOC is right for you.  After your one free trip, you must pay the membership fee to go on other trips.  Our annual membership fee is $15 for undergrads, $20 for grads ($10 for undergrads and $15 for grads for just the Spring semester).  Other than that, all you pay for is gas (a couple bucks per trip, paid to your driver).  
I heard a little about SUOC's Spring Break trip.  What is it?
Every year, SUOC takes a Spring Break trip to West Virginia.  We stay there the entire break, but if you want to come for only a couple days, that's fine.
What do you do in WV?
Mostly, we go climbing and caving, with plenty of hiking sprinkled in there.  We have campfires, sleep in cabins or tents, play games, and celebrate.  Some people spend a lot of time alone while others are always with the crowds.  It's a highly customizable trip.
How much does that trip cost?
The price depends on the year, but is usually around $160.  If you drive people to WV, you only pay $100 for the trip.  Stay tuned for more info.
Wait, is that $160/night or $160/week?
It's $160 for the whole break (something like 10 days).  This trip is known as a cheap alternative to traditional Spring Break trips.
How do I get to WV?
There will be a rideboard set up to coordinate driving to WV.  You can either volunteer to drive your own car or sign up to ride in someone else's.  Again, stay tuned.
How do I sign up for the Spring Break Trip?
Wait for announcements at the meetings.  They will also be posted on our website and sent out on our listserve.  Posters will be put up to advertise to the general student body.
I have more questions.  Can I get more info on the club?
Sure, there's plenty of information on our website, especially under "About Us" >> "Club Documents" >> "SUOC Bible" or "SUOC Constitution" and you can ask any officers or leaders questions that you still have.  Come to our meetings and sign up for a trip!