BACKPACKING LEADERSHIP
See the list of current leaders, here.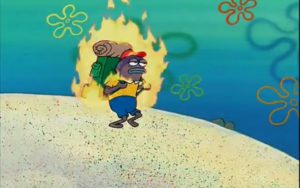 Backpacking Leadership (Non-Winter)!
Know what filters or purifiers are used for different sized groups, and how to use both purifiers (iodine or aquameria) and one filter (Katydyn HikerPro or Gravity Filter).

Can use purifiers on the ghost lead, but at least demonstrate you understand how to work the filters

Must be able to use a stove appropriate for group size, and feel comfortable doing so (preferably whisperlite).  Also cook at least one HOT meal. (aka hot water but ur cooler if u make fun food)

NOTE: if you ever want to work for organizations such as NOLS, Outward Bound, etc they typically use whisperlites

Teach beginners how to pack a pack and give a detailed list of gear to bring (footwear, clothes, food, etc)

Food suggestions should be given, such as fast cooking food, high calorie food, beginners don't understand how many calories you burn so EDUCATE

Give a simple RAD (route and description) plan that encompasses: elevation change, distance, identifying features on the route, and time it will take to get from Point A to Point B, and show that you can orientate a map to a compass. (ON ADK Topo map NOT Caltopo) —-—> this will need to be demonstrated in the field!!

Also note where you will be sleeping for that night, and how you are getting to the trailhead.

While hiking prospective leader should demonstrate knowledge of common navigation skills, timekeeping, and manage efficient breaks.

Also be able to manage group energy/morale/safety and keep a hiking pace the group can handle, and check in with group and recognize group limits.

Backpacking route for ghost lead must be at least 1.5-2 miles in from your car or at least gain significant elevation over 1 mile, total of 6 miles in one day, on a route you've never been on.———> does not have to include a high peak, but it's more fun

Recognize and practice Leave No Trace Principles such as use of bear can, obeying camping regulations, lean to etiquette, pick up micro trash etc.

Understand bear protocol, such how far to cook and store food, what to do if you encounter a bear, etc. PLUS educating your group about this!

Overall encourage the love of backpacking to group, especially beginners, share your passion and teach it! We want more people backpacking!!

REGISTER YOUR TRIP AND HAVE A CALL OUT ALSO have the

numbers

AND

addresses

of the closet hospital/urgent care
All things listed above must be shown on a ghost lead, level of knowledge expressed on these topics during your ghost lead will determine if you pass!
Backpacking Leadership (winter)!
Winter backpacking is differentiated as a leadership due to the unique challenges in planning, gear usage, and group management presented by winter conditions.
A beginner for winter is: someone who has backpacked in non winter conditions multiple times, and someone who has never been backpacking.
Leaders should be able to do all the non-winter requirements with the addition of:
explaining how to stay warm (more than just why we layer)

Know how to use and teach traction devices, including snowshoes, micro spikes, and crampons

Route should be able utilize these traction devices so potential leader can demonstrate knowledge

Be able to operate a Whisperlite

You need to boil snow for water, plus Isobutane cans freeze

use of risk and group management skills D2S2 (Don't do stupid stuff) check in with beginners comfort levels on tricky terrain

Be more cognizant of group moral, beginners have a hard time loving winter backpacking have a goal to make them come winter backpacking again!

Being able to prevent, recognize and treat hypothermia and frostbite

Make hot beverages for people (bonus points)

Food knowledge should be given out in the trip email along with packing list

Emphasize fatty foods, lightweight fast cooking foods, etc. (eat more, stay warm)
Winter backpacking is considered a technical activity. Three-season backpacking is not.
Winter backpacking leaders are automatically considered three-season backpacking leaders.
If someone pursues a backpacking leadership they may do one 3-season backpacking ghost lead as well as one winter to become an all season backpacking leader.  The potential leader MUST demonstrate the qualifications above regarding specific winter qualifications (crampon, micro spike, and snowshoe use, understand hypothermia causes, etc).  If they do not the fail.
********  If you chose to use a Lean to Rescue as a Ghost Lead, your Ghost must have seen you backpack before and talk to the Backpacking Chair, as well as you will need to perform all of the above requirements***********
For more information, see the documents "Is it the Winter?".
Check WINTER WEATHER DEC link> https://www.dec.ny.gov/outdoor/9198.html
—>also Adirondack Backcountry Hikers on Facebook for specific mountain conditions
Explanations of each of the requirements listed above, along with a few helpful links, may be found below.  More redundancy from the redundancy department, but if you like bullet point format.
Is familiar with the use and maintenance of all of the equipment necessary to successfully take out such a trip.
For summer backpacking:
Whisperlite, fuel, pots and lighters

Backpacks

Sleeping bags and pads

Water filter or other purification method

Proper choice for size of group

Tents (Enough to fit group)

First aid kits

Headlamps

Maps and guidebooks
For winter backpacking, the above and:
Snowshoes, crampons, and microspikes

Ice axes

Hypo kits
Is aware of and follows the relevant hiking and camping regulations for the areas they are using.
Is familiar with and follows the principles of Leave No Trace.
Is capable of managing a group, including showing concern for others and effectively communicating with them.
Managing a group includes:

Ensuring the group has the proper food and clothing needed

Ensuring group comfort and capability during the trip

Effectively communicating includes:

Announcing the trip and notifying letting those who made the trip of the planned itinerary in a timely manner

Communicating clothing needs for the trips – including the concept of layering, avoiding cotton, and the expected weather

Communicating necessary personal gear for the trip – such as water bottles, food needs, and headlamps
Is capable of being encouraging towards beginner backpackers, while being cognizant of the limitations of others in the group.  Remember if people are miserable they won't come back. More type 2 fun can happen on intermediate trips not beginner!!
6. Is capable of instructing new members in the above, and is capable of training and verifying the next generation of backpacking leaders