An odyssey of Conor O'Sullivan and Ben VanderStouw
---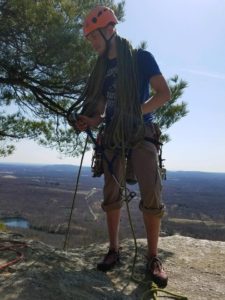 ---
About thirty minutes into the car ride, Conor looked over at me. "Oh no. Dude, can you check the trunk?"
I unbuckled my seatbelt and slid into the back.
We turned around to grab Conor's helmet sitting in our living room.
---
We got to New Paltz – a town full of pubs and New York City dwellers escaped for the weekend – around 8:00. We found a little parking lot to sleep in, camping in the back of Conor's luxury Toyota Prius. We ended up getting around ten hours of sleep that night, the most we've had all semester!
---
We got up at 7AM, ate some breakfast, and headed to the crag. The Gunks are famous for their world-class multipitch traditional climbing, with very tough grades. Many climbers from elsewhere in the country are humbled by a Gunks 5.9.
Many of the routes were closed because of peregrine falcon nesting, so it was quite crowded. We saw some other parties do some WILD things like top-roping with just a rope around a tree and making just terrible anchors.
We climbed a route called Madame Grunnenbaum's Wulst, or Madame G's (5.6). This climb is usually completed in three pitches, being 210 feet, but we linked the second and third for a 170' rope-drag-filled extravaganza! It was hard getting to the top because there was so much friction in the system (gotta bring up more draws next time!).
I ended up taking a 20' whipper on the first pitch of Something Interesting (5.7+), and to my dismay I had to leave my trusty green Alien Cam that caught my fall. I was too tired and spooked afterwards to lead the next pitch, so we lowered back to the ground.
---
The view from the walls is absolutely beautiful, with the Catskill mountains framing a big open sky.
Conor was going to lead a route called Three Pines (5.3), but the German party in front was taking a long time, so we left.
After we made some vegan/gluten free garbage plates and called it a day!
What great way to procrastinate Organic Chemistry.
---
Stay Wild, Not Mild.
---
This post contributed by Ben VanderStouw. Do cool things? Want to share? Email us at mjmahone@syr.edu.